Have you been thinking about developing or commercializing a new, innovative product or process? Are you located in South Central PA?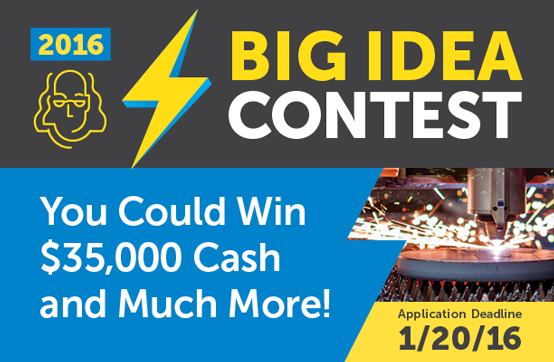 This year, Ben Franklin Technology Partners is offering two prize packages in the Big Idea Contest!
Each winner will receive:
$35,000 in cash
An Innovation Adoption Grant up to $25,000 to work with a PA-based research university
Priority access to an investment up to $100,000 from Ben Franklin
A one-year pass to seminars offered by Ben Franklin's eMarketing Learning Center valued at $2,500
A free consult on how to access Federal R&D grant money from the Innovation Partnership valued at $3,000
Free working space at the BF TechCelerator@Carlisle by CREDC valued at $10,000
Do you qualify to apply?
You do, if …
You are planning or developing a new, innovative product or process for commercialization

You or your business have not previously received funding from Ben Franklin Technology Partners

Your business is located in one of the eight eligible PA counties

Important Dates
Oct. 23, 2015: Contest opens
Jan. 20, 2016: Application deadline
Feb. 3, 2016: Finalists selected
March 2, 2016: Finalist presentation training
March 25, 2016: 10-page business plans due
April 11, 2016: Slide decks due
April 14, 2016: Final judging
The contest application period is over.  Thank you for your interest.