Help us Create the Richard Heddleson Business Transformation Award
Richard Heddleson's life had a very meaningful impact on dozens of tech startups in central Pennsylvania. With degrees from Johns Hopkins and Harvard and a lengthy finance career in Silicon Valley prior to his tenure with Ben Franklin Technology Partners, he was the embodiment of a true professional with an entrepreneurial spirit.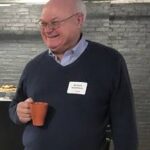 In his initial role with the Transformation Business Services Network, Richard quickly became a valued confidant and business mentor to many of Ben Franklin's clients. He was also instrumental in helping to create one of the earliest versions of the Ben Franklin TechCelerator, an intensive 10-week business startup curriculum offered by Ben Franklin.  The TechCelerator@Carlisle, which was housed in the old Murata Business Center, began offering weekly sessions and one-on-one mentoring for emerging entrepreneurial teams nearly ten years ago. Today, this very successful program has been offered in more than a dozen locations across central and northern Pennsylvania.
Richard Heddleson Transformation Award Video
In 2015, Richard accepted the position of Regional Director for the traditional funding program offered by Ben Franklin. In this role he managed a large regional portfolio of startups and small manufacturers who were seeking funding to either start or grow their business.  He took the time to understand not only the technology they were trying to bring to market but also the myriad hurdles they would likely need to navigate.
Richard's deep and varied experience, along with his genuine concern for Ben Franklin's clients, made his input valuable to not only the program, but to other investors and economic development partners as well.  In honor of his role and his memory, Ben Franklin's TechCelerator program is pleased to announce the Richard Heddleson Transformation Award.  The recipient of this cash prize will be the individual/team that best utilizes the program's lessons and guidance to transform their business model over the ten weeks. The award will be announced by Ben Franklin's mentoring team at the TechCelerator's graduation pitch event.
Contribute to the Richard Heddleson Business Transformation Award
We are asking you to consider making a tax-deductible contribution to Ben Franklin at Penn State to fund this new award in Richard's honor.  Your generosity will help support not only this award in the future but also the entrepreneurial spirit in Central Pennsylvania.